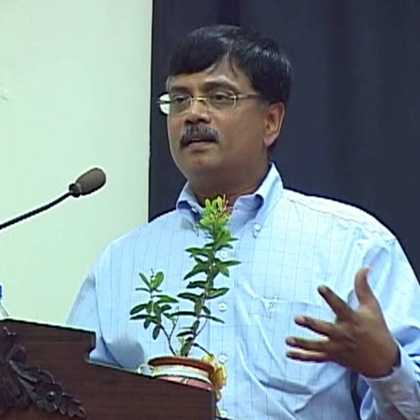 Sri R Ravi ChandranVice Chairman
Sri Vishnu Educational Society
Hyderabad
I , Ravichandran R , am priviledged to be the Vice Chairman of Sri Vishnu Educational Society since November 2009. My present responsibilities include providing governance, leadership and translating the vision of the founders to actionable goals so that we are able to create the right platform for both our faculty and students to participate in a unique experience of learning and character building.
Message for students: "Aspire for the freedom to dream and the confidence to realize that vision"
It was in 1993 I finally achieved my dream of becoming an entrepreneur. I teamed up with my brother, who graduated as an Engineer from Guindy College of Engineering, and dabbled in the corporate world for about two years and later did some small time construction contracts. We together had dreamt of starting some manufacturing enterprise. I instantly quit my job at Chemplast and joined in identifying a project. There is a saying, that in an entrepreneurial journey the first half of the journey is complete when one identifies a project of his/ her dream! We zeroed in on manufacture of cement near our native place. 1993 started commercial production, 1995, entered into Dairy sector, in 1996 started a software company that laid the foundation for ultimately shifting to Hyderabad to commence the Healthcare service company.
As soon as I graduated as a management graduate in 1988 I joined with a swiss multinational, Ciba Giegy and worked in Bombay and Delhi regions, before shifting to Chennai to join Chemplast, a SANMAR group company, in 1991.
After my undergrad in engineering I joined with Hindustan Motors at Calcutta, for a short stint of one year in their vendor development function, Vauxhall motors [Contessa cars].
My hobbies include trekking, photography, reading and travel. Have many friends and network with fun.
INSPIRING QUOTES
Real education enhances the dignity of a human being and increases his or her self-respect. If only the real sense of education could be realized by each individual and carried forward in every field of human activity, the world will be so much a better place to live in.
Your body is a weapon and consider it very strong. Consider your mind to be very strong as only with strong mind and body you will be able to cross the ocean of life. Have strong faith in yourself, your body and mind.
If we want to reach real peace in this world, we should start educating children..
Management